Pubblicato il: 04/06/2020 - Aggiornato il: 20/08/2020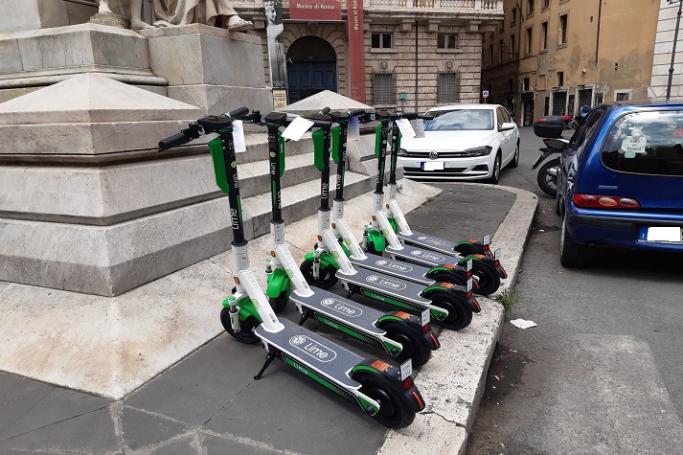 The fleet of electric scooters in Rome increases. A few days after the unveiling of the new service with
Helbiz, another thousand of the Lime micro vehicles are arriving. For the first two weeks, they will be
available between the city centre and San Giovanni, including the Esquilino district. Others will then be
available in the Parioli/Pinciano, Flaminio, Trieste, Nomentano/University, San Lolrenzo, Prati and
Garbatella/Ostiense districts. To use Lime, a smartphone app identifies a scooter on the map of the city and
scans the QR code on the scooter, allowing it to be unlocked with a button. The instructions to end the hire
and park the scooter are also on the app. Costs: 1 Euro to unlock the scooter and 25 cents for each
additional minute. There are also subscriptions available: the Lime Week Pass (weekly) costs 2.99 Euros
and allows savings on the unlocking cost. The Lime Monthly passes will include free unlocking for 30
minutes journey: 8 journeys (19.99 Euros), 25 journeys (44.99 Euros), 50 journeys (79.99 Euros) and 100
journeys (149.99 Euros, usable over 3 months).
"Rome wants to be the capital of sustainable sharing. Today, we are unveiling other scooters, made by Lime,
a leading company in the EU, and not only in terms of vehicles with zero emissions for short journeys. What
we are doing is flooding the city with shared vehicles, because this pandemic has opened everyone's eyes
and this crisis must be a chance for change," said the Mayor of Rome, Virginia Raggi, during the unveiling at
the Fori Imperiali. "We must rapidly focus on sustainable mobility, and we have partners of primary
importance," she added, "scooters help inter-modality; they are not ideal for travelling from the far north to
the far south of the city, but are perfect for short journeys, that first and last mile for which many opt to use
cars." Mrs. Raggi also recalled the initiative by the Campidoglio to begin the construction of 150 km of cycle
paths "on which these scooters can also be used".
Mr. Calabrese commented, "we are witnessing important changes in the propensity of the inhabitants to use
light, eco-sustainable vehicles for daily journeys, and in this context, electrical scooters are an ideal means
for 'last mile' mobility, an excellent solution for shorter distances and together with public transport for longer
journeys".