Pubblicato il: 14/10/2021 - Aggiornato il: 12/01/2022
New tools for service on Roman bike lanes. On Via Nomentana, near Viale Regina Margherita, a new bike maintenance station has been set up. A structure equipped with tools for small and immediate DIY repairs and an apparatus for inflating the wheels. All this is always with a view to increasing the safety of cyclists.
The column-workshop matches the totem pole, installed during summer on the Nomentana bike lane at Via dei Villini, which shows the number of bicycles and scooters on the lane. The data is updated on the display of the device with a delay of 10 to 30 seconds after each passage. The totem is not just a counter. The data collected is fed into the Roma Servizi per la Mobilità database and it is fundamental both for statistical purposes and, above all, to study possible improvements in city mobility.
The same device has been installed on the bike lane along Via Pineta Sacchetti and will soon be installed at those on Via Tuscolana, near Via Gela, and in Viale Angelico near Viale Mazzini. With the same "statistical" function, always at the service of the city, the bike counter device  which was installed a few days ago is being tested, on 1 October, on the Aventine bike lane at Ponte Sublicio. In this case, however, the technology is different but equally effective. The counting takes place through pneumatic tubes laid on the asphalt (visible in the photo).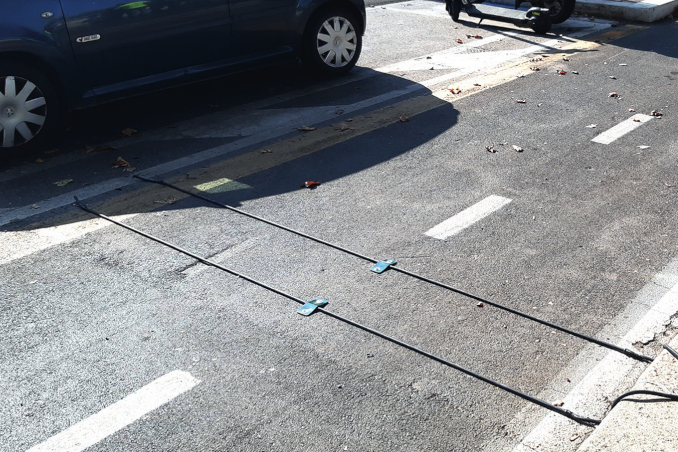 The data is then collected by the device and downloaded every day on site via a simple USB cable connected to a laptop. This mode will only be active for the experimental phase, after which, if the trial produces the desired effects, data transmission will be fully automated