Pubblicato il: 13/01/2021 - Aggiornato il: 13/01/2021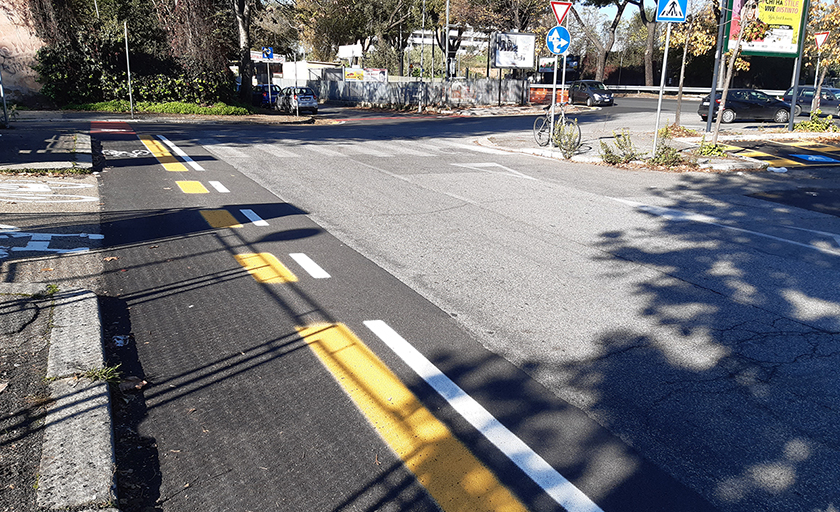 The work for the construction of the Prenestina cycle path, which will be betweeb Porta Maggiore and viale Palmiro Togliatti and on viale Togliatti itself between via Prenestina and via Molfetta, via della Cacie and via degli Olivi, connected to the existing cycle path on the central traffic divider.
The worksite, managed by Rsm, is expected to be closed at the end of May and is mainly in the area District V, and partly in District I near Porta Maggiore. The project involves the construction of a one-way lane each side covering 5.7 km in each direction, 5 km on via Prenestina and 700 metres on viale Togliatti, located on the right hand side of each of the carriageways and covering a total of 11.4 km.
The work had been interrupted because of some shortcomings on the part of the contractor and were re-started in September. The part between largo Preneste and viale Togliatti (right hand side towards the GRA, covering about 2.8 km) has already been completed, as has the first part on the right hand side of via Togliatti, towards Cinecittà from via Prenestina and via Durante (the remainder on viale Togliatti will be completed after the refurbishment of the road surface by Simu, involving the entire width of the carriageways). The work is currently being carried out on via Prenestina, on the right hand side going towards the city centre, between viale Togliatti and via di Portonaccio – largo Preneste (1.4 km).
The workers are working on the refurbishment of the asphalt and horizontal signage on the both the cycle path and the stopping areas for motor vehicles, and also the installation of the horizontal signage and the adjustment of all of the traffic lights crossed by the cycle path.
A second worksite will be opened shortly, parallel to the current one, on the right hand side of via Prenestina going towards the ring road between piazzale Prenestino and largo Preneste (1.2 km). The pavements will be changed sol that the cycle path will be next to the pavement, leaving an adequate width of road to enable traffic to flow properly. The work, which is part of the invariant works of the Pums, will involve an expenditure of 833,019.35 Euros.