Pubblicato il: 12/05/2020 - Aggiornato il: 20/08/2020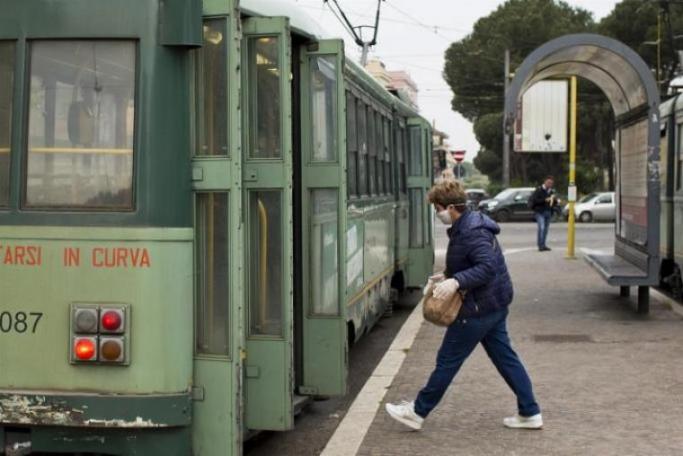 Also for public transport -  May 4 marked a turning point between two phases of social life : before and after the coronavirus, before and after the "lockdown", the anti-accounting isolation. Graduality and caution are the keywords to restart the transport network, according to the guidelines outlined by government decrees and regional ordinances. First of all, the recommendations and rules for the new phase of cohabitation on board the public transport bus lines are listed below:
Mask use is mandatory on board all the public transport lines. Inside the stations and the ticket offices ONLY TRAVELERS WEARING A NOSE AND MOUTH PROTECTION MASK are admitted;
NEVER use public transport in presence of acute respiratory infections symptoms (fever, cough, cold);
travel is allowed ONLY for proven reasons according to the decree of the President of the Council of Ministers of 26 March 2020;
it is necessary to justify the reason for the travel with the self-certification to be shown at the police check;
it is mandatory to keep 1 meter distance from other travellers and staff;
Access to trains may be limited according to the number of passengers. When the numbers exceed those allowed inside a coach, passengers have to wait outside the station;
In stations, passengers are required to use separate entry and exit lanes according to the signs on the ground. Before boarding the train, other passengers must be let out.
ON BOARD BUSES, TROLLEYBUSES AND TRAMS
According to Regional Ordinance Z00037 of 30 April 2020, standing passengers are allowed up to 50 per cent of the vehicle transport capacity. For the ascent and descent, passengers must follow the signs on the doors. Only the central door is available on some buses. Before boarding, you must let the other passengers get off. On buses and trams, board passengers on board cannot sit on the prohibited seats or access the designated areas near the driver's cabins. The number of passengers on board can be limited and suspended when the maximum capacity is reached. In this case, the vehicles can skip the stops or only stop to let passengers hop off.
TICKETS AND SEASON TICKETS: BETTER IF DIGITAL.
Where possible, purchase tickets in electronic format, online or via app. Information and purchase channels are available at www.atac.roma.it. Ticket offices are open on weekdays from 7am to 7pm and closed on public holidays.
They are in the following metro stations:
Metro A: Battistini, Lepanto and Anagnina.
Metro B: Ponte Mammolo, Eur Fermi, Laurentina and Termini.
Metro B1: Conca D'Oro.
Roma Viterbo Railway: Flaminio.
Railway Rome Lido: Porta San Paolo.
The ticket offices inside the metro stations of: Spain, Ottaviano and Eur Magliana are closed.
HOURS: HOW THE METRO SERVICE WORKS:
First and last services run between 5.30 am and 11.30pm, weekdays and holidays.
Due to works for the Metro B/Metro C interchange at the Colosseo Station, the service along the Metro B: Castro Pretorio-Laurentina section ends at 9 p.m.
 On Metro Line C, the metro service on the San Giovanni-Malatesta section ends at 9 p.m. because of the extension works along the San Giovanni-Amba Aradam-Colosseo section. In this case, bus replacement lines are active.
REGIONAL RAILWAYS:
- Rome-Lido: on weekdays
From Piramide station :  first and last services run between 5.30am and 11.30pm;
From Colombo Station:  5.15am-11.30pm - in some time slots the frequency will reach 7-8 minutes.
On holidays: first and last services run from the terminus: between 5.30am -11.30pm with a  frequency of 15 - 30 minutes.
Rome-Civitacastellana-Viterbo, urban section:
From Flaminio : first and last services run  between 5.25 am- 10:40pm
From Montebello: between 5.55 am -11.10pm; frequency of 10 minutes in peak periods  On holidays
From Flaminio :  first and last services run between 5.55am - 10.10pm;
From Montebello between 6.18am - 10.38pm
Rome-Civitacastellana-Viterbo, extra-urban section:
On weekdays : 31 runs between trains and additional bus services,
 On holidays : 18 runs.
Termini-Centocelle: first and last departure from Centocelle  between 5.07 am - 10.30pm;
From Termini between 5.30 am - 10.53pm. Frequency in the peak is guaranteed every 6-7 minutes.
On public holidays: first and last departure from Centocelle between 5.03 am -10.23pm; from Termini station 5.30 am -10.50 pm.
BUS, FILOBUS AND TRAM, THE ATAC NETWORK: On the Atac network, the reactivation of the evening service will take place gradually from 4 to 11 May. From 4 May, the tramway lines and the express lines running along the city center and suburbs : 01-05-058-2-3-5-8-14-19-20-30-49-60-62-63-73-80-85-86-87-88-90-105-128-163-170-200-201-301-309-336-337-341-409-446-451490-507-508-544-551-705-708-709-714-719-766-780-881-904-913-916-980 will increase the range of service, with the last runs leaving the stations at 11.30pm. The rest of the running lines will end service at 9.00 pm.
Night bus service remains suspended for the cemetery lines C1-C2-C3-C4-C5-C6-C7-C8-C9-C11-C13-C19 and for lines 20L and 230 and shore lines 07, 062, 070.
THE ROME TPL BUS SERVICE: Evening running time for the Roma Tpl bus service has been restored on the following bus lines: 08-011-013-013D-017-018-022-023-024-025-027-028-030-031-032-033-035-036-037-039-040F-041-041-041F-042-048-049-051-053-054-055-056-057-059-066-074-078081-086-088-088F- 135-146-213-218-226-235-314- 339-340-343-349-404-437-441-444-445-447-502-503-505-541-543-546-548-552-555-557-657-660-663-665-701-702-710-711-721-763-764 -771-777-778-787-789-808- 889-892-907-908-912-982-985-992-993-998-999. -
MONITORING : Metro stations and the main stations of the aboveground network will be constantly monitored to check for regularity and possible crowding, in order to improve measures such as the quota of the vehicles climb or the strengthening of the connections with additional vehicles.
INFORMATION; Powered online information to users is always preferred to limit interpersonal contacts between travellers and staff. Updates and details can be found, every day, even on holidays, on atac.roma.it; on romamobilita.it and on the following social channels: @romamobilita, @infoatac, Telegram.me/infoatac, Whatsapp number: 335. 1990679.
BLUE PARKING SPACES AND EXCHANGE PARKING: On 4 May, charges will return for the blue parking spaces and the interchange parking areas unless passengers have an annual subscription, in which case, it is free. Opening times for exchange parking follows the metro-railway service: opening time at 5.15 am and closing time at 00.30 am.
ZTL OFFICES: The daytime limited traffic zones in Trastevere, Tridente and City Centre remain open to everyone and access is free until 31 May.