Duration: february 2020 - february 2024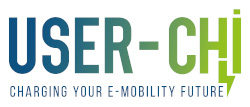 The USER CHI project, co-funded by the European Commission under the Horizon 2020 program, began on Feb. 1° 2020 and will last 4 years.
The goal of the USER CHI project is the creation of a new electric mobility system that puts citizens and cities at the center. Questo avverrà attraverso lo sviluppo e l'integrazione di tecnologie innovative, modelli di business e quadro normativo, che saranno dimostrati e validati in cinque aree urbane europee: Barcellona (area metropolitana), Roma, Berlino, Budapest e Turku, città incluse nei nodi di collegamento dei corridoi Mediterraneo e Scandinavo-Mediterraneo (MED e SCAN-MED) della rete transeuropea di trasporto (TEN-T). In addition, the cities of Murcia in Spain and Florence will be involved in the validation of the results.
The Pilot Project in the Capital will be developed in collaboration by Roma Servizi per la Mobilità, ENEL-X, ENEA and the start-up DSI.
Partners
Leader project: Etra Investigacion Y Desarrollo SA (ETRA), Valencia, (Spain)

INSTITUTO DE BIOMECANICA DE VALENCIA (IBV), Valencia (Spain)

AREA METROPOLITANA DE BARCELONA (AMB), Barcelona, (Spain)

BUDAPEST FOVAROS ONKORMANYZATA (BUD), Budapest (Hungary)

GEWOBAG WOHNUNGSBAU- AKTIENGESELLSCHAFT BERLIN (GEW), Berlin (Germany)

VMZ BERLIN BETREIBERGESELLSCHAFT MBH (VMZ), Berlin (Germany)

INSTITUT FUR KLIMASCHUTZ ENERGIE UND MOBILITAT-RECHT, OKONOMIE UND POLITIK EV(IKEM) (IKEM), Berlin (Germany)

EUROCITIES ASBL (EUR), Bruxelles (Belgium)

ROMA SERVIZI PER LA MOBILITA SRL (RSM), Roma

FIT CONSULTING SRL (FIT), Roma

AGENZIA NAZIONALE PER LE NUOVE TECNOLOGIE, L'ENERGIA E LO SVILUPPO ECONOMICO SOSTENIBILE (ENEA), Roma

DIGITAL SYSTEM INTEGRATOR SRL (DSI), established in VIALE LONDRA 47 F13, Roma

ENEL X SRL (ENEL), Roma

IPT TECHNOLOGY GMBH (IPT), EFRINGEN-KIRCHEN ( Germany)

CITY OF TURKU (TUR), Turku, Finland

OY TURKU ENERGIA - ABO ENERGI AB (ENER), Turku (Finland)

TVT ASUNNOT OY (TVT), Turku (Finland)

VARSINAIS-SUOMEN ASUMISOIKEUS OY (VASO), Turku (Finland)

CIRCONTROL SA (CIR), VILADECAVALLS Barcelona (Spain)

QWICC GMBH (QWI), Munchen (Germany)

COMUNE di FIRENZE (FLO), Firenze

AYUNTAMIENTO DE MURCIA (MUR), Murcia (Spain)

ASOCIACION ESPANOLA DE NORMALIZACION (UNE), Madrid (Spain)

CITIES FORUM SLU (CIT), Murcia (Spain)