Bicycle Heroes engages children in solving bicycle-related urban mobility problems to address their needs and raise awareness of the need for and benefits of bicycling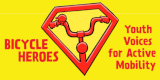 The city of Rome through Roma Servizi per la Mobilità engaged middle school children to help design urban bicycle routes and promote active mobility.
The Bicycle Heroes (Youth Voices for Active Mobility)project, supported by EIT Urban Mobility and co-funded by the European Union, has seen the cities of Rome, Lisbon, and Dublin united in creating solutions to the barriers students face in getting to school on foot or by bicycle.
The program has been piloted by the BYCS coordinating organization for the past five years in the Netherlands. BYCS is a global NGO based in Amsterdam that supports community-led urban change through cycling.
Nearly 10,000 young people took part in the initial outreach and problem-solving phase of the program, which led to the selection of about 150 Bicycle Heroes.
In this project, young people from the three partner cities identified the obstacles and benefits of active mobility. They developed and designed solutions as part of a design competition that was displayed to the public. The teens then supervised the implementation of the selected idea in collaboration with the key partners involved. The project also aimed to increase awareness of, ownership of, and involvement in mobility challenges and solutions, both for the boys, but also within the general population. It is essential that boys are heard in their needs; they are the voice of the future.